Polestar 4 production starts; first customer deliveries expected before end of 2023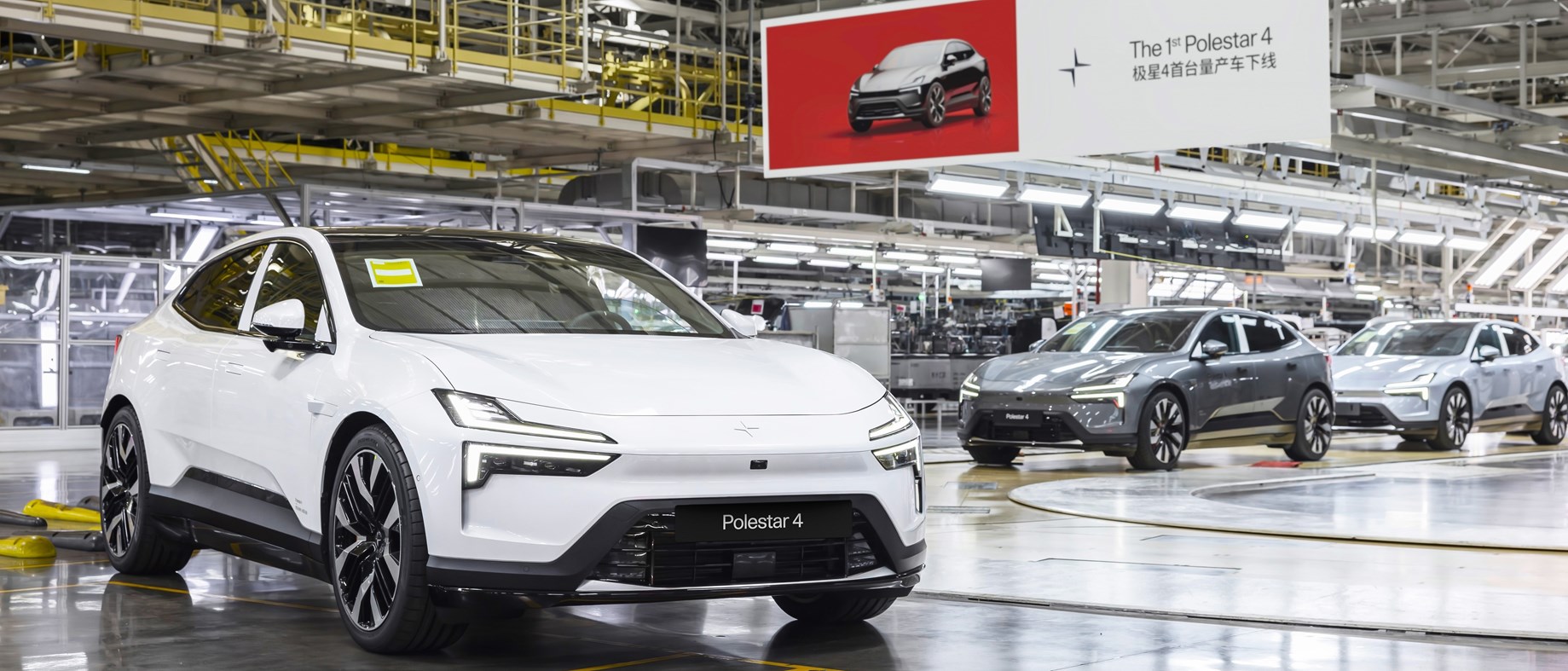 GOTHENBURG, SWEDEN – 15 November 2023. Polestar (Nasdaq: PSNY) confirms the successful start of production of Polestar 4, with first deliveries to customers in China expected before the end of 2023. Official launch in all other Polestar markets is planned for early 2024, with customer deliveries in these markets expected within the same year.
The first production car to roll off the assembly line is finished in Snow with the signature Swedish gold details of the Performance Pack. It is the first Polestar to be manufactured at the Hangzhou Bay factory operated by Geely Holding, which is powered by renewable electricity that carries the I-REC hydro power certificate, combined with photovoltaic electricity generated on the roof of the plant.
The factory's green credentials have played a significant role in reducing the environmental impact of Polestar 4, which at 19.4-21.4 tCO2e, has the lowest carbon footprint of any Polestar car at launch.
The workshop adopts several methods of reducing harmful waste, including:
Non-chrome passivator to reduce water pollution.
Water-based paint to reduce volatile organic compound emissions.
Dry paper box filtering in the paint shop to remove paint mist, achieve zero wastewater generation during the spraying process, and effectively reduce air conditioning energy consumption by 60%.
Concentrator wheel and regenerative thermal oxidiser to effectively treat exhaust gases from the factory.
Thomas Ingenlath, Polestar CEO, says: "The first Polestar 4 rolling off the production line today is the culmination of hard work from countless colleagues and partners. Polestar 4 stands out in design and performance, a remarkable SUV coupé in many ways. It is the first Polestar to feature a virtual rear window with world-class digital rear-view mirror. This car plays a very important role in our growing line-up of exclusive performance EVs. It illustrates the value of our diversified and asset-light approach, making use of our partner and major shareholder's development and manufacturing expertise."
Polestar 4 was first launched at the Shanghai Auto Show in April 2023. From the second half of 2025, additional manufacturing will be added in Busan, South Korea, for the local market and export to North American markets. The SUV coupé is the second SUV in the Polestar line-up and in addition to incorporating design cues first seen on Polestar's concept cars, it is also the fastest Polestar production car to date. Polestar 4 is positioned between Polestar 2 and Polestar 3 in terms of size and price.
Ends.
About Polestar
Polestar (Nasdaq: PSNY) is the Swedish electric performance car brand determined to improve society by using design and technology to accelerate the shift to sustainable mobility. Headquartered in Gothenburg, Sweden, its cars are available online in 27 markets globally across North America, Europe and Asia Pacific.
Polestar plans to have a line-up of five performance EVs by 2026. Polestar 2, the electric performance fastback, launched in 2019. Polestar 3, the SUV for the electric age, launched in late 2022. Polestar 4, the SUV coupé transformed, is launching in phases through 2023 and into 2024. Polestar 5, an electric four-door GT and Polestar 6, an electric roadster, are coming soon.
The Polestar 0 project supports the company's ambitious goal of creating a truly climate-neutral production car by 2030. The research initiative also aims to create a sense of urgency to act on the climate crisis, by challenging employees, suppliers and the wider automotive industry, to drive towards zero.
Forward-looking Statements
This press release contains statements that are not historical facts, but rather forward-looking statements within the meaning of Private Securities Litigation Reform Act of 1995. Such forward-looking statements include those that address activities, events or developments that Polestar or its management believes or anticipates may occur in the future, including the expected delivery of vehicles to customers. All forward-looking statements are based upon our current expectations, various assumptions and data available from third parties. Our expectations and assumptions are expressed in good faith and we believe there is a reasonable basis for them. However, there can be no assurance that such forward-looking statements will materialize or prove to be correct as forward-looking statements are inherently subject to known and unknown risks, uncertainties and other factors which may cause actual future results, performance or achievements to differ materially from the future results, performance or achievements expressed in or implied by such forward-looking statements. Numerous risks, uncertainties and other factors may cause actual results to differ materially from those set out in the forward-looking statements, including potential delays in further production of the Polestar 4 and future deliveries to customers. For any forward-looking statements contained in this or any other document, we claim the protection of the safe harbor for forward-looking statements contained in the Private Securities Litigation Reform Act of 1995, and we assume no obligation to update publicly or revise any such statements in light of new information or future events, except as required by law.